Janice Brooks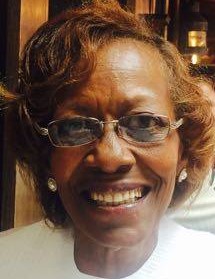 We remember Co-Founder and Artistic Director Marshan Moultry's mother Janice, a dedicated church choir member who encouraged him to nurture his musical talent. She passed from this life to the next in November 2020.
Our beloved Janice Brooks was born on August 21, 1953 to Earleen Raley and Allan James Brooks in Marin City, California. She passed from this life to the next on November 19, 2020 in Seattle, Washington, after a long battle with chronic and persistent health issues.
Janice loved her family and was the last surviving member of her siblings, predeceased by her sisters, Silvia and Hattie Gibson (children: Kimbu, Rahsaan, Josette, and Marilyn) of Mill Valley and her brothers, Irwin, and Allan Brooks III, previously of Stockton, California.
She leaves to mourn her passing, her beloved only son, Marshan Moultry; a host of nieces and nephews; the adopted family of her housemates; her pastors and church family at Liberation United Church of Christ (UCC); and numerous friends whose lives were touched by hers throughout the years.
During her early years, Janice attended elementary school at Mount Tamalpais, the Mill Valley Middle School, and the Tamalpais High School. She worked as a server in the locally renowned "House of Soul" restaurant in Vallejo, staying true to her family's Louisiana roots, providing southern hospitality and serving others.
Janice enrolled in the Cadet Internship in the Administrative Services Bureau of the Marin County Sheriff's Office after finishing high school and was introduced to office work and she would go on to attend Indian Valley College in the city of Novato to study Business Administration. She would later further her studies at Heald's Business School in San Francisco and take on underwriting insurance for a firm in Novato.
Janice would eventually leave insurance and business world to fulfill her passion of helping others and she spent the majority of her working years providing care and compassion as a home healthcare worker, building relationships with those in her care until her retirement in 2012.
In the early 70s, Janice met Lonnie Moultry and they became a couple and were blessed with a son, Marshan, in August of 1974. Janice and Lonnie would divorce in 1985 and she remained a strong and independent woman, with powerful voice of advocacy and equity.
Loving and protective by nature, Janice had a genuine empathy and concern for the well-being of others. She enjoyed spending time with her friends and relatives and nurturing her nieces and nephews. She was known for her generous hospitality and delicious Louisiana-inspired recipes such as her cornbread-battered catfish. In her spare time, she enjoyed barbeques, cooking and entertaining others and she helped maintain the Marin City Community Garden with her friends Carla, Debbie, and Royce. She also loved flowers and the rain that brought them life.
Janice loved the church and was a dedicated member of several congregations through her life, only missing a Sunday on the account of health issues. She loved God and his people and absolutely loved good preaching and a good sermon. She had a powerful contralto voice and sang in the choirs of the Village Baptist and Quail Lakes Baptist Churches in California, under the direction of her son, Marshan. At Village Baptist Church, where her father served as a faithful Deacon, Janice was known for her lead in singing, "God Is." It was there, also, that she would raise her son to grow into his own faith relationship with Christ which led to the development of his study and ministry in music.
Marshan would move to Seattle and Janice would eventually follow and they served together in the Liberation UCC Choir that she attended until her health failed. In her latter days and following the passing of her brother, Allan, Janice joined Marshan at his home where he cared for her in her declining health and ultimately until her passing.
The struggles of Janice's earthly existence are now over. We praise God for receiving her home to a great reunion with her heavenly family and most of all with the Savior who loved her without measure and claimed her as his own.
"Absent from the body, Present with the Lord!"