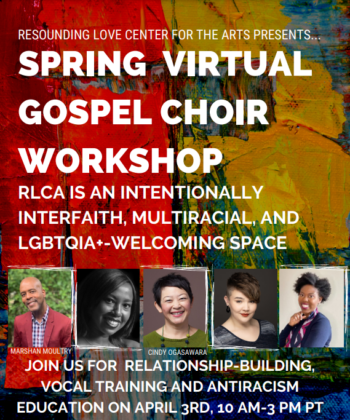 Want to join a gospel choir? Join the Resounding Love Gospel Choir workshop on April 3, 10 am – 3pm PT.
Interested? Fill out the RLCA New Member Interest Form. Or, reach out to [email protected] with any questions.
Resounding Love Center for the Arts is an intentionally multiracial, interfaith and LGBTIQ-welcoming space for all.
Some other choir info:
The choir rehearses Tuesday evenings.
White-identifying members are strongly encouraged to participate in a white caucus on alternate Thursdays focusing on antiracist work.
Members pay dues; however, inability to pay isn't a block to participating.
Check out Resounding Love Center for the Arts on Facebook.